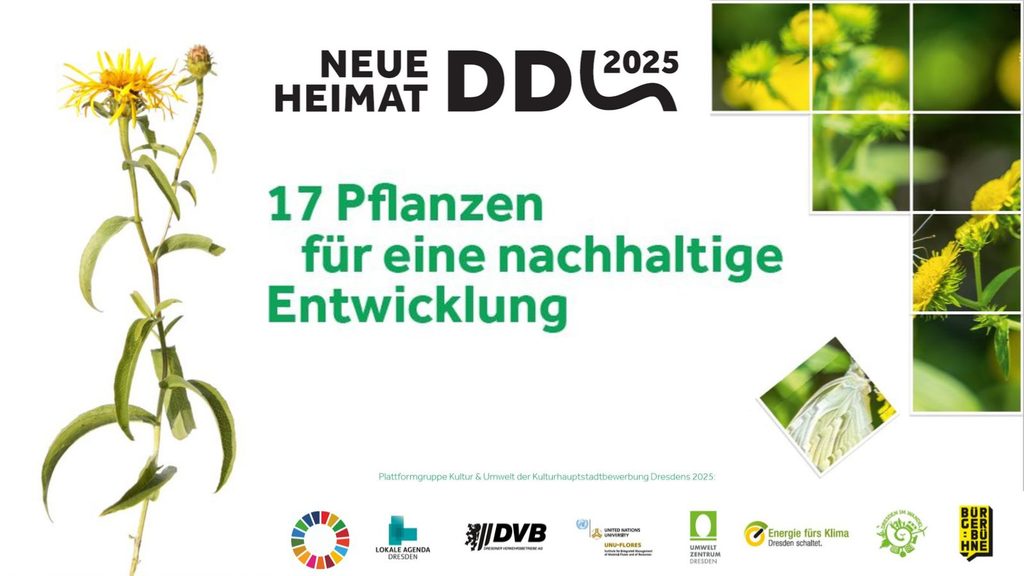 18. Okt 2019
Neue Heimat sustainable: We plant Capital of Culture flowers
Platform Culture & Environment
Dresden has become a habitat and a new home not only for people from all over the world, but also for wild and cultivated plants. The majority of our useful plants have immigrated as neophytes and are now part of it as a matter of course.
Eight actors from the sustainability and art scene have set the 17 UN goals for sustainable development as the target framework for the European Cultural Capital Dresden 2025. Every Capital of Culture project should demonstrably contribute to the preservation of our natural livelihood, social cohesion and sustainable economic activity.
17 plants stand for 17 goals. In order to make this visible throughout the city, the platform group will use the "Capital of Culture Flowering" project to make an endangered wild plant blossom a thousand times over. The seeds for this are already germinating.
Under the title "Neue Heimat Sustainable: We Plant Capital of Culture Flowers", the platform Culture & Environment would like to present its contribution to the application for the Capital of Culture. In addition to the presentation of the project and discussions with plant sponsors, the plants themselves will also have their say. Their perspective is a central building block for the exhibition object.
Artistic audio play reading: Michael Neubarth (Bürgerbühne)
Input:
Eva Gruhl, Project "Urbanity and Diversity", Umweltzentrum Dresden e.V.
Tom Umbreit, Managing Director Umweltzentrum Dresden e.V.
Rachel Ahrens, Communications and Advocacy Officer UNU-FLORES
Moderated discussion with the plant godparents and audience discussion
Moderation: Anja Ehrhardt and Christine Mantu
Neue Heimat Platform
"How would you show a visitor from another European country the culture of your neighbourhood?" This is what our platform "Culture & Democracy" asks in its project, which it developed for the European Capital of Culture in 2019. The Dresdeners' answers are to be used to create a cultural trail through the entire city by 2025, for locals and tourists alike. The "Culture & Environment" platform, on the other hand, is inviting people in the spring of 2020 to create a meadow atlas, a threatened wild plant with large yellow flowers, before the plants find a new home on the Elbe meadows. These are two of nine ideas from our platform process.


Cultural mediators speak of participation and sharing: Neue Heimat Dresden 2025 stands not only for culture for all, but culture with all. Our programme 2025 will consist of a curated part – developed by professional artists – and a non-curated part – designed by citizens. This year, 150 people have already worked on project ideas in nine thematic fields, which will now be presented to the public for the first time and implemented as prototypes in 2020.