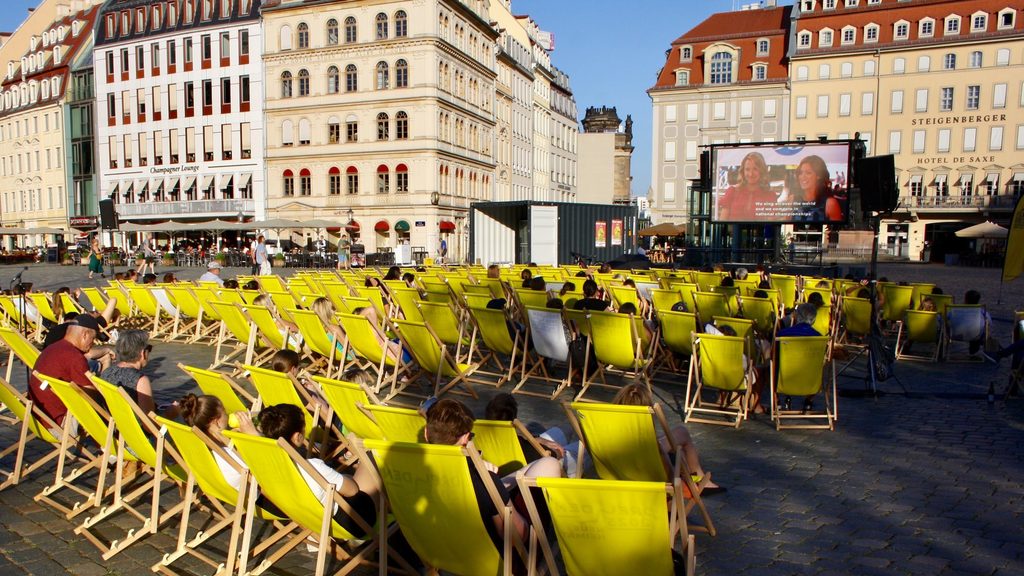 From 17. Jun 2019
Kinokaraoke
Cult films to sing along to – free of charge and open-air
Singing connects. Watching movies together too.
This is the motto of the Bid Office Dresden 2025 and Wir gestalten Dresden – Branchenverband der Dresdner Kultur- und Kreativwirtschaft, which will once again be presenting Kinkaraoke at Dresden's Neumarkt this year.
From 17 June to 1 July, short and feature films from the dance and music genres will be presented on three consecutive mondays. The focus will be on movies with a high proportion of music, which invite the audience to sing along and provide a shared cultural experience. The prelude makes on 17 June starting from 7 p.m. Hape Kerkelings "Kein Pardon". New this year is the Children's Film Day, which starts on 24 June at 5 p.m. "Sing", an animated children's film in which the Koala Buster Moon invites to a singing competition, will be shown.
It will be followed by the a cappella comedy "Pitch Perfect" on the same evening. For the grand finale on 1 July, the "Blues Brothers" will create a mood on the big screen. The main films will be flanked by a curated selection of short films – audience favourites from the past festival years of Filmfest Dresden.
On 17 June and 1 July, the audience can also look forward to the "Mitsingzentrale – Betreutes Singen" again. The duo Demian Kappenstein and Reentko Dirks will then play with the guests at the Neumarkt through the music history of recent years - by acclamation and by means of song lyrics projected onto the screen. For the cosy cinema singing experience, 200 deckchairs from the Bid Office Dresden 2025 and several catering services are available to the public again. The lyrics will be made available on site for guests who are not yet completely sure of the text.
Programme
17. June 2019
7 p.m. live: Mitsingzentrale – betreutes Singen with Demian Kappenstein und Reentko Dirks
7.45 p.m. short film: Copyshop, D 2017, Regie: Jakob Grunert, Musik: Romano
8 p.m. main film: Kein Pardon, D 1993, Regie: Hape Kerkeling (FKS 0)
9.45 p.m. short film: Nothing Compares to (E)U Regie: Eline Gehring (D 2019, 14 min)


24. June 2019 Children's films
5 p.m. short film: Faultier, D 2018, Regie: Julia Ocker
5 p.m. main film: Sing, USA 2016, Regie: Garth Jennings (FSK 0) 19.30 Uhr Kurzfilm: Estribillo, E 2017, Regie: Cesar Tormo
8 p.m. main film: Pitch Perfect, USA 2012, Regie: Jason Moore (FSK 0)


1. July 2019
7 p.m. live: Mitsingzentrale – betreutes Singen mit Demian Kappenstein und Reentko Dirks
7.45 p.m. short film: Denken Sie Groß, D 2015, Regie: Till Nowak, Timo Schierhorn & UWE, Musik: Deichkind
8 p.m. main film: Blues Brothers, USA 1980, Regie: John Landis (FKS 12)