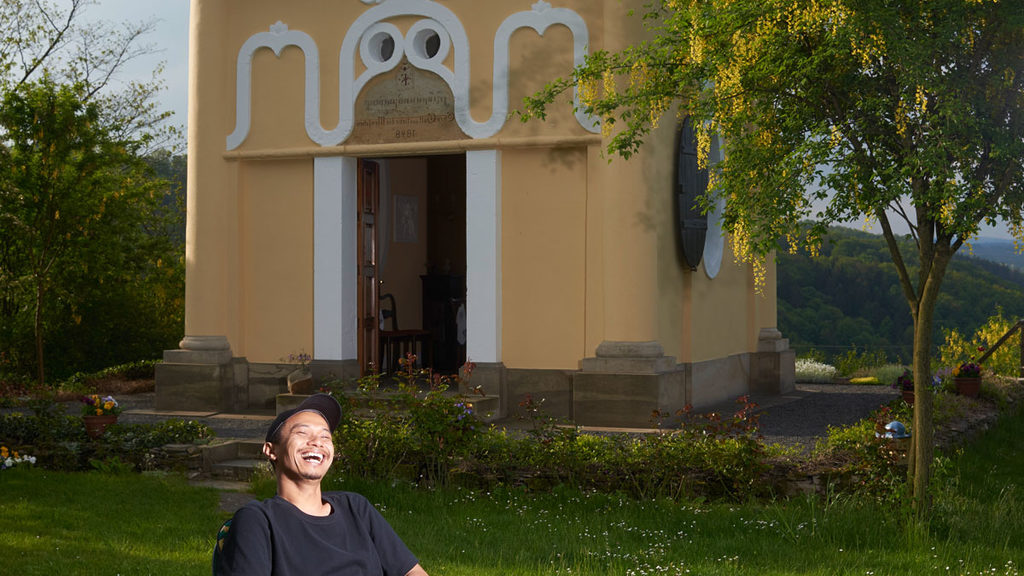 1. Dez 2019
The Curious Deal
An extraordinary barter trade
Indonesian art meets Dresden stories: What does an artist need to live?
Summer 2019, a studio in Yogyakarta, Indonesia: A young artist paints on an eight-meter painting. It shows an oriental prince on a horse, a smoking volcano and: a Dresden tram. The painting by the up-and-coming artist Uji Handoko Eko Saputro, or Hahan for short, will not find its way onto the classical art market afterwards. Hahan will donate it to the Dresdeners in autumn 2019. Better yet: he wants to trade it with them.
But from the beginning: In May 2019, the Bid Office Dresden 2025 invited the artist to Dresden to learn more about his compatriot, the prince and painter Raden Saleh, who lived and worked in Dresden and Maxen for several years in the 19th century, through talks, archives and travel. Today Raden Saleh is regarded as the father of modern painting in Indonesia; his paintings fetch millions at auctions. Hahan asks himself today: Why is Raden Saleh so unknown in Dresden?
In his painting, the contemporary artist uses his view of Dresden and Raden Saleh, then and now, in the modern pictorial language of urban Indonesia, between Indo-Pop, Graffiti and Comic Art.
An extraordinary barter trade: what does an artist need to live?
Hahan will not sell this painting to a private collector: Over two days, he will cut his artwork into pieces and auction it at the Deutsches Hygiene- Museum Dresden. The currency for the exchange: Dresden objects and their stories. Hahan asks: What does an artist need to survive? He invites you to bring along objects that answer this question. How does an artist survive today? Is money the only measure of quality, success for art? How can quality and value be measured? In the performance, the objects brought along are exchanged for one or more excerpts of the artwork - the audience decides who gets how much. At the end there is no picture hanging - the objects of the Dresdeners form the finale of the exhibition.